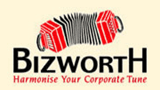 Bizworth
Bizworth is a next generation consulting company specializing in Intellectual Capital mapping and evaluation services. Bizworth is probably the only consulting company in India to be totally focused on Intellectual Capital.
As our alliance partner, Bizworth offers our clients services in the areas of valuation of intangible assets, enterprise valuation, purchase price allocation, stock options valuation etc to support corporate transactions such as investments, M&A and for tax and regulatory purposes.
Value8
Value8 is a specialized consultancy firm in Europe head quartered in Germany. They offer result oriented, sustainable and measurable consultancy in each stage of their client's new investment process in the area of Indo-German business possibilities.
Value 8 provides end to end services in every aspect of the business value chain, with measurable results.Value8 aligns itself to provide service according to clients strategic, operational and tactical requirements. We work with Value8 to support our client's Europe expansion plans.
Dla Piper
Dawn has worked with the international tax group at DLA Piper to assist with India operations for numerous high tech companies ranging from emerging private and public companies to Fortune 500 companies. DLA is one of the largest law firms in the world with over 3500 attorneys around the world.